May is agreeably the best month to come throughout the year, don't you think?
Flowers, the sun, warmth… we go on walks with our friends and enjoy one of our favorite things: OUTDOOR SEATING. In May, we also celebrate "National Mimosa Day" (May 16th) and Memorial Day Weekend (May 31st)
In this blog post, we will show you the best ways to enjoy May with Mimosas & celebrate MDW in Montclair!
Mimosa Brunch in Montclair, NJ:
– Le Salbuen: Fresh squeezed orange juice plus your favorite champagne, add in your favorite brunch dish from this "always delicious" spot and that equals a perfect way to celebrate Mimosa Day! We love Le Salbuen, we always recommend people to go here and enjoy themselves 🙂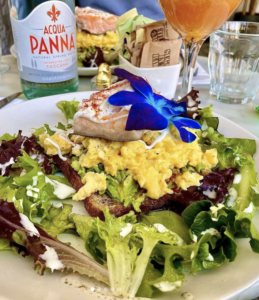 – Faubourg: Of course, this French spot serves mimosas, how could it not?! Every single cocktail drink in their menu is perfect, and we often have hard times deciding which one to order… but not today! We know what we're ordering this time. Best news is that on Sundays your brunch entree includes one free drink.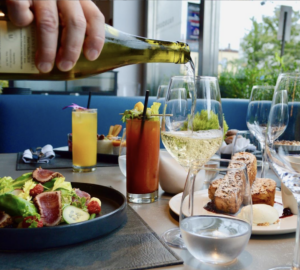 – Halycon Brasserie: This place has mimosas right at the top of their brunch menu! Right where you can see them because they know what you came here for 😉 Halycon specializes in seafood, and you won't be disappointed with the delicious flavor combos that are revealed to you between every bite and sip. Yum!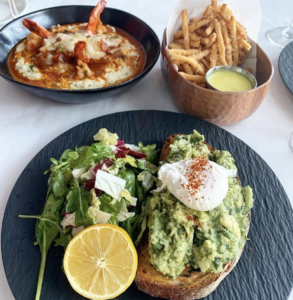 – Sweet Kitchen: Another byoc (bring your own champagne) spot where all you have to do is ask for some O.J. and you're all set! Sweet Kitchen presses their orange juice every morning so if you have a great bottle of champagne, you know this drink is about to be BOMB!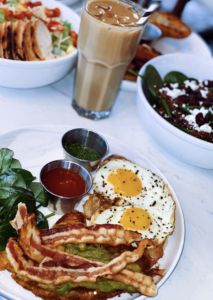 – Toast: Pancakes and mimosas… say no more. It's the perfect combo! Bring your bottle of champagne, order an orange juice, mix and enjoy.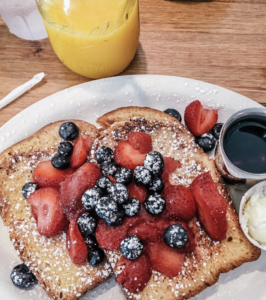 – Sayola: An elegant, post-modern Spanish Restaurant is a treat! So get a little dressed up, bring your champagne, order fresh-pressed O.J. from Le Salbuen, Sweet Kitchen, Jackie's, or Green Point Juicery (Verona), and enjoy yourself!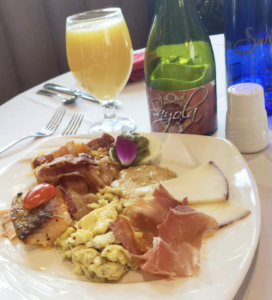 If you're wondering where to eat for MDW in Montclair? Here is your list:
1. Red Eye Cafe: Guys, we loveee this place! Pancakes are always perfect, they have great daily specials and, of course, great coffee. We think a morning-breakfast date over Memorial Day Weekend at Red Eye Cafe is a lovely way to start your day.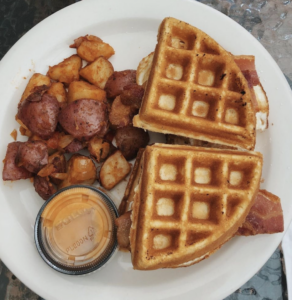 photo credit: @sellaeatz
2. Samba: Because MDW is often times spent with family, we're suggesting Samba because they can cater bigger parties, and it is easier than other restaurants to get larger seatings here. And of course, the food is delicious. If you are Gluten-Free, Samba is also a great option for you as they are the only officially certified GF restaurant in NJ. If you are not gluten-free, don't worry about the food tasting any different. Take the perspective that Gluten-Free means your food is as clean, unprocessed, and not filled with useless/unnecessary ingredients as possible! We really love Samba so much!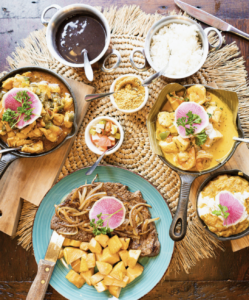 3. Stuffed Grassfed Burgers: What's a Memorial Day Weekend without a burger? Hmm… probably not the best one. This weekend CALLS for some delicious meat! We loved Stuffed because it is customizable to whatever your heart desires. They also have veggie burgers and milkshakes (dairy and dairy-free) so it's a one-stop shop for everyone. Don't forget the fries!!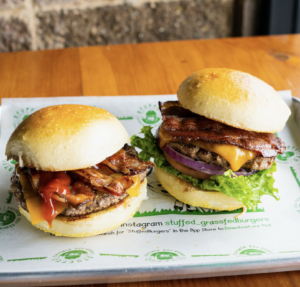 *Pictured: Two custom-order burgers (both enjoyed bacon, clearly)
4. Raymond's: Located on Church Street, we love the energy and ambiance of this place! Filling meals that are always great when shared with a friend, Raymond's is always a solid choice!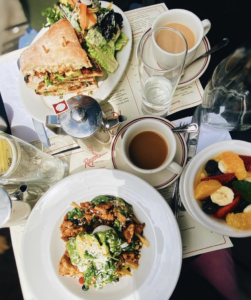 photo credit: @repoleanna
5. Jackie's Grillette: The perfect lunch spot! Grab a juice or a drink, order a big sandwich or a mezze platter. Always consistently delicious & family-owned, Montclair Foodie absolutely loves Jackie's! Our favorite sandwich from here is the Jackie's Special: Roast Beef, Swiss, bacon, coleslaw, Russian dressing on a long roll (same kind of bread/roll as the photo below). It just hits the spot everytime. We genuiely crave and enjoy this sandwich.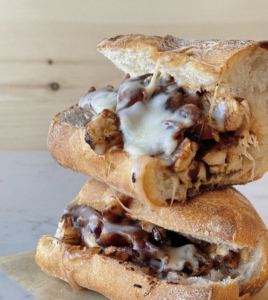 *Pictured: The 'Big Bang'— BBQ chicken, bacon & melted mozzarella
 6. Mr. Dino's: Pizza is 100% part of the MDW menu. There are many pizzerias in Montclair, but we have a special place in our pizza heart for this one. Mr. Dino's has been family-owned & serving the Montclair community for over 40 years.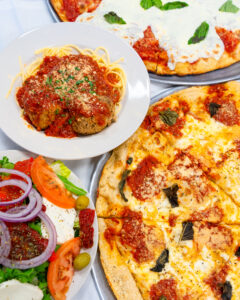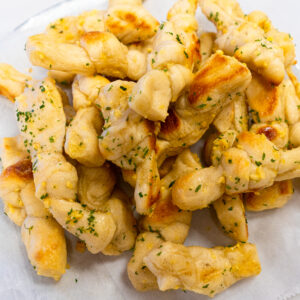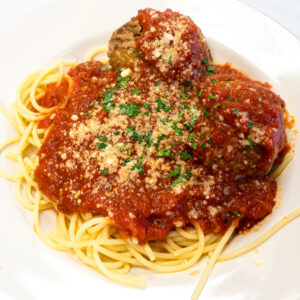 Montclair! If you love eating along with us, share this article on your socials. Feel free to message us on Instagram to talk about your favorite Montclair spot.
Thank you for the continued support!