Cake, cake, cake, cake, with so many yummy places to grab sweet treats in Montclair, NJ you can never run out of options!! Montclair Bread Co for your donuts, Plum Bakery for the gluten free lovers, Little Daisy Bakeshop, KakesKimmy, Applegate Farm, Gelotti, the list goes on and on!! But another one of our personal FAVE discoveries at this years Taste of Montclair… Cakeaholic Obsession!!!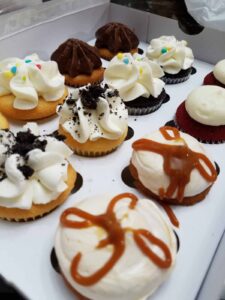 So what did we have you ask? Cookies and cream (with an actual cookie at the bottom of the cupcake!), Vanilla Birthday Cake, Chocolate Birthday Cake, Red Velvet, Chunky Monkey, and last but most certainly not least, Banana de leche. Banana de Leche was their flavor at Taste of Montclair although not currently on the menu of selections (although we think it needs to be!) It is hands down our favorite! So we have all these flavored cupcakes and then, we notice the ice cream.
Cakeaholic has homemade ice cream delivered weekly from Upstate New York. They even have custom flavors coming soon such as Lemon Berry, Banana Pudding (#MotherMayI?!?!?!), and Pink Velvet. What did we try? Cinnamon Brown Sugar… thats right I said CINNAMON BROWN SUGAR!!!! Take a drive to the southside of Montclair and allow yourself to… indulge (we did)!!! Veer off of Bloomfield Avenue and find your way to 324 Orange Road in Montclair NJ.
An already award winning bakery, Cakeaholics was just nominated for best bakery in Best of Essex 2016! Cakeaholic not only offers amazing cupcakes and homemade ice cream, they do events to!! Date nights, Girls nights, baking classes for the kids, and more! If you havent already tried Julie's cupcakes, what are you waiting for??? Ask for the Banana de Leche and thank us later!
Cakeaholics has since closed their location in South Montclair. But are working on a new space coming soon and you can still order yummy cupcakes and treats online!!!
p.s. word on the street is Cakeaholics Obsession will be at this years Montclair Food and Wine BBQ on July 9th if you are planning on attending be sure to stopby their table and tell them MontclairFoodieSentMe!
-MF