We recently had another amazing dining experience at Samba Montclair and we had to share! Samba is located in the middle of Montclair Center right off the intersection of Bloomfield Ave and Park Street and was busier than usual for a Monday night, according to the host, probably because as the days get warmer and longer, more people dine out more often. Unfortunately, not ALL restaurants are open in Montclair,NJ on Monday nights, although more and more are starting to post Summer Hours (are you as excited about that as we are)! In fact We wouldn't be surprised if as many as half of your favorite restaurants in Montclair are closed on Mondays… but that's a separate conversation for another post, clearly we LOVE summer hours! 😉
Samba's ambiance is as delicious as their Brazilian National dish stewed for 24 hrs. Beautiful soft Brazilian music played softly in the background pairing wonderfully with the authentic cuisine.
We had their Salgadinhos sortidos (little pastries filled with chicken, beef,  or cheese) and Frango à passarinho (tiny organic chicken cuts on the bone) to start. Followed by the Picanha ao alho (Brazillian cut Top Sirloin Steak served with puréed plantains and vegetables pictured below) and the Feijoada (national dish) we mentioned before.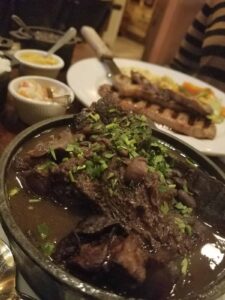 Portion sizes at Samba Montclair are amazingly filling and since it was only Monday night, we decided to pace ourselves and skip dessert… but we wont next time! Can't wait to go back!!!
Buen Provecho
-MF