One of our favorite foodie holidays is here! The options of where to spend your Independence Day weekend are abundant in our town of Montclair, but the ones below are our favorites!
1. Turtle + The Wolf: This is one of our favorite spots of all time and they will be closed for dine-in on July 3rd & 4th, but they are offering a BBQ Meal Kit that feeds 6-8 people. You can place orders [email protected] or text 201.509.6854!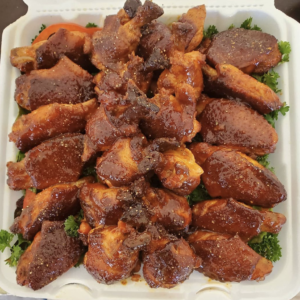 2. Samba: We will continue to recommend this place to you until the end of time! It's perfect for a July 4th weekend because you can bring a large group of friends, there are options on the menu for everyone, and it's a great place to host a celebration. The food is always consistently delicious, the ambiance is on point, and passion is one of the main ingredients in the dishes; we'll keep coming back over and over again.

3. 

Raymonds: The extensive brunch/lunch menu here, which's filled with pancakes and eggs and biscuits and all different kinds of yummy creations, is perfect for July 4th. Whatever your free, hungry heart desires, you can find it here.

Photo credit: @brunch.with.bri
4. Mikki & Al's Noshery: How about inviting all your friends over to your house and serving up some delicious and perfectly cooked chicken dinner? Grab all the side salads, open up some beers, cheers to life and our freedom, and enjoy!

5. Faubourg: If you're feeling fancy and want to celebrate the beautiful life you have here in this country, spend it at the just as beautiful Faubourg. The ambiance here is unmatched, drinks are always 10/10 and the food never disappoints. Skip washing the dishes and cleaning up at home, treat yourself to a date with friends at Faubourg!

These are our favorite spots to spend the 4th of July weekend in Montclair. We hope you enjoy yourself this weekend and celebrate the free, beautiful life you have!