We had the absolute pleasure of enjoying a meal at Corso 98, the sister restaurant to one of our favorite bakeries in Montclair, Cucina 98. We're not surprised it was so unbelievably good, anything attached to the Cucina is destined to be delicious. We love how we got to end our dinner with one of our favorite desserts ever: their Lavendar Brownie. Omg. 
We are so happy that Corso 98 finally reopened after being closed throughout Covid-19 in Montclair. Beverly is the new chef working with the Suriano family. The new menu is similar to the traditional dishes that made up the old but with a little umami flare added here and there 🙂
Note that all dishes can be made vegan if needed 🙂
We have a lot to munch through, so come along and enjoy a 10/10 meal with us. 
Appetizers: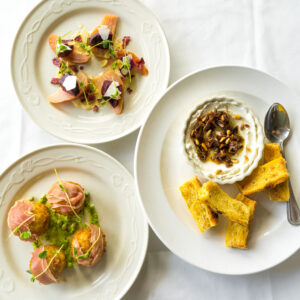 We started with the beet salad, pea & ham arancini, and the caramelized onion & pignoli ricotta. 
Beet salad:
 roasted beets, white romesco, beet chips, toasted almonds, ricotta salata, and microgreens

Pea & Ham Arancini:
 english peas, prociutto and fontina 

Whipped Ricotta: 
caramelized onion jam, toasted pignoli, and grilled raisin fennel semolina bread

Foodie thoughts:
First of all, the answer to whipped ricotta is always YES. Add in Pignoli and caramelized onions? Even bigger yes. This starter is a must! (You won't see this plate in the appetizer section though, it is in the "sides" section on their menu.
One of the reasons why we love arancini so much is because every place has its own special recipe. We love this dish because it wasn't greasy, it has a perfect bite, and even though peas can be a bit bland & boring, in this dish they were crucial and elevated the flavor combination. We love it.
We're not like many: but we're obsessed with beets. When a restaurant treats this vegetable as a delicacy and finds innovative ways to enhance its unique flavor & texture, we admire it so much.
If we had enough room in our stomachs we would've ordered the arugula salad, artichoke hearts, and warm fresh mozzarella!
Let's move on to the entrees!
Entrees:

 

Porcini Pappardelle: 
wild mushrooms, black garlic, miso and pancetta (right)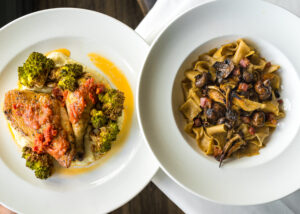 Bell & Evans Pan-seared Chicken: 
cauliflower puree, sun-dried tomatoes, romanesco cauliflower (left)
Foodie Thoughts:
Seriously pappardelle is one of the superior pasta shapes! And don't get us started when it's HOME-MADE pappardelle… we're in heaven. Then if you mix in specifically porcini (just like pasta shape, mushroom type is very important) we are happy foodies! Talk about a perfect dish! We love a fresh plate of light pasta. Yum.
And this chicken dish! The cauliflower puree (with more cauliflower on top) might deter some away, but let us tell you it's less about the vegetable and more about the flavor and texture when you eat it with this crispy chicken. We love that there were two kinds of meat: breast & high, and the extra elements of this dish were absolutely necessary and nothing overwhelming.
Next time we absolutely want to try the Fava bean & Mint Ravioli Cacio e Pepe (I mean come on, just the sound of that…) and we're interested in their scallops, filet and eggplant piccata.
Sides:
Meatballs
 & 
Grilled Asparagus
 with Calabrian chili and gochujang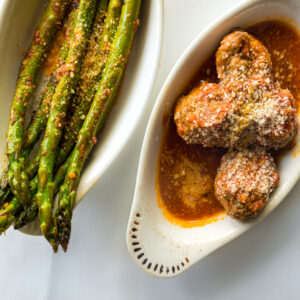 Foodie Thoughts: 
We can't cook asparagus to save our lives, so we really appreciate a good asparagus side. The Calabrian chili is a fun & unique addition. The meatballs were perfect! The sauce, the taste of the meats, the cheese… we couldn't ask for anymore more!
Desserts:
Vegan Lavender Brownie 
with a dark chocolate drizzle and vegan vanilla ice cream on top
Foodie Thoughts:
We need to take a moment… because we get overwhelmed by how much we love this brownie. Not because it's vegan or whatever, but because it is hands down one of the best brownies we have EVER had. We genuinely keep 2 in our fridge at all times. The dark chocolate drizzle gives the brownie a bit of a bite, the crust is ideal and the inside is perfectly fudge-y with hints of the lavender flavor. It really is so good, you HAVE to try it!
And that's it! An absolutely perfect and extremely enjoyable dinner at Corso98. We truly recommend this place for dinner, you will enjoy yourself and eat some of the best food in Montclair. The ambiance is perfect for a double-date, a night out with friends or a family dinner. Bring a bottle of wine and enjoy your time.
If you liked this blog post, please share with someone you want to go to Corso 98 with, and thank you for your constant support!